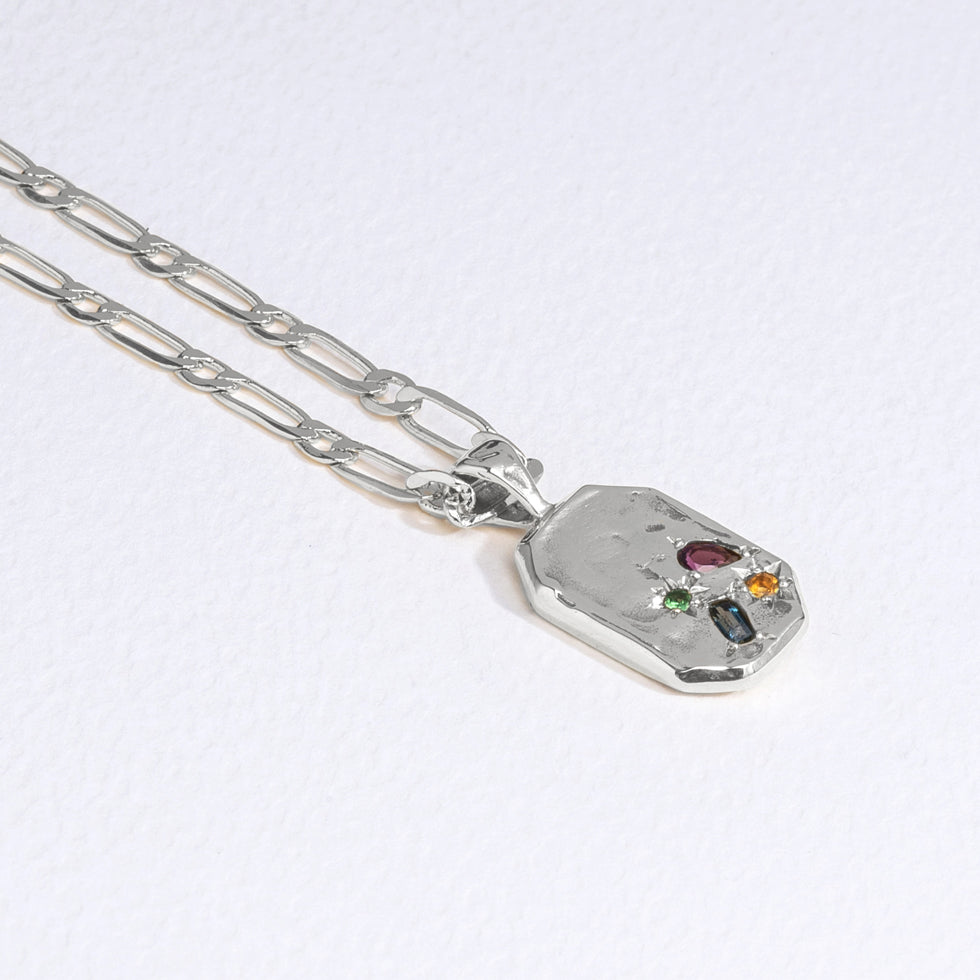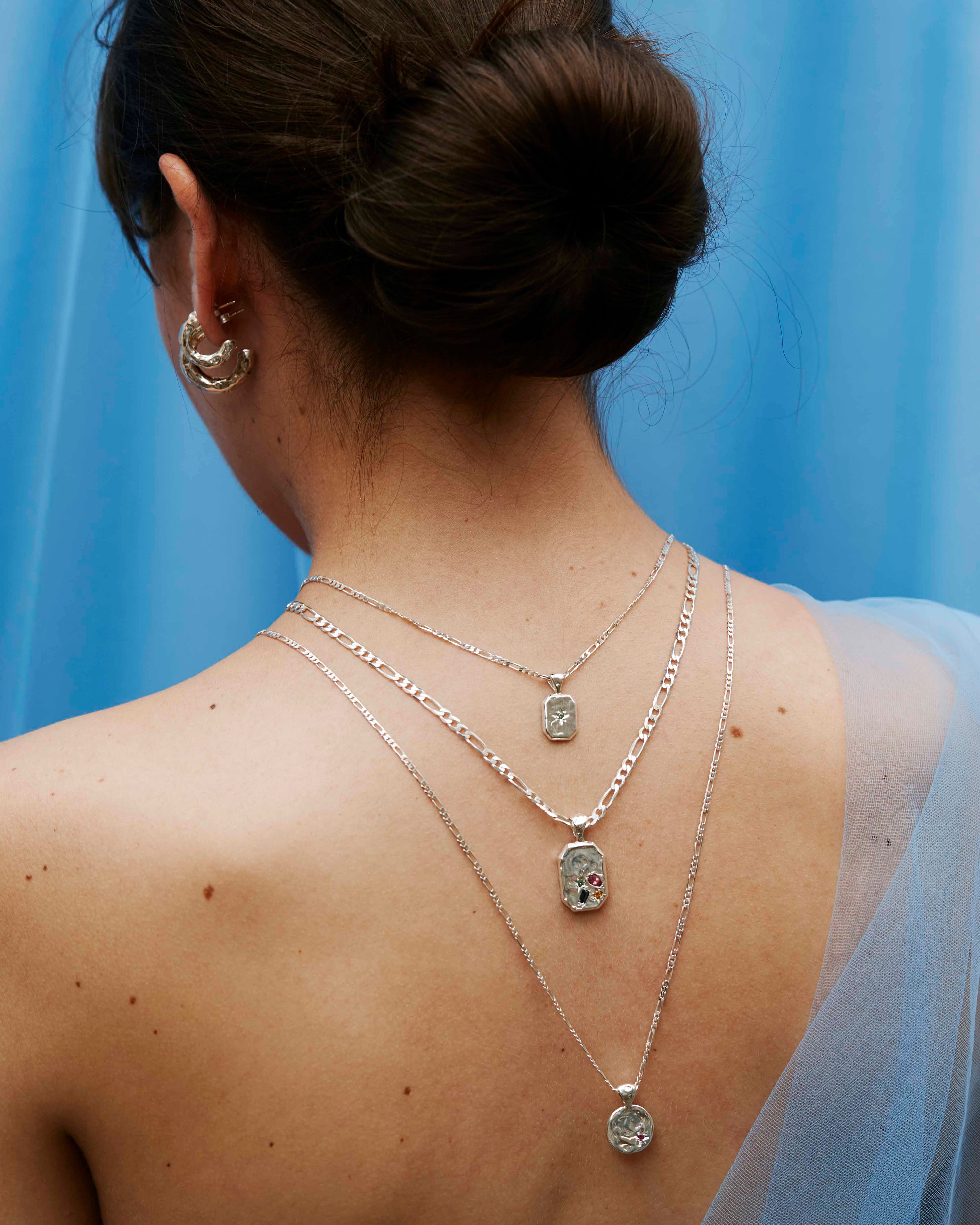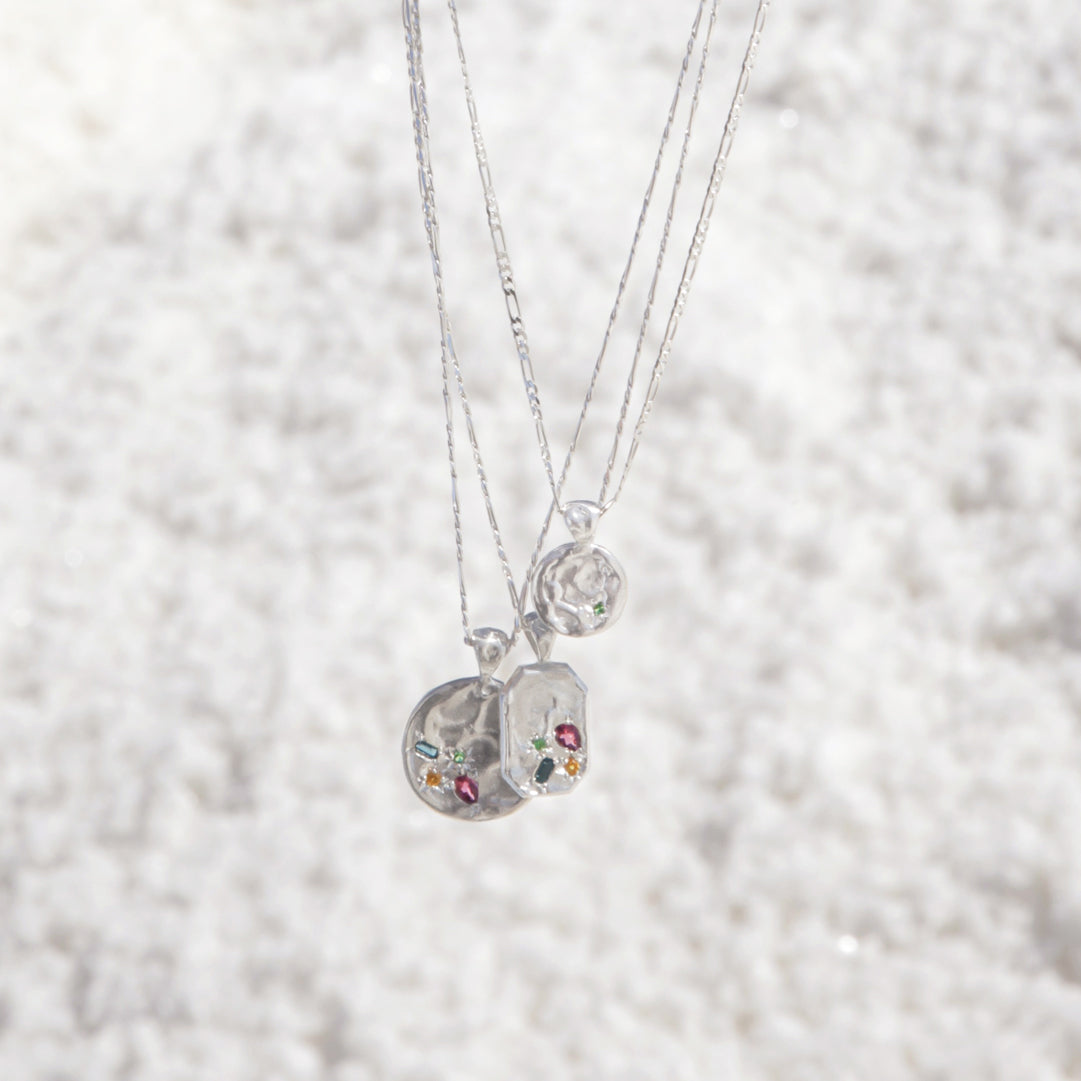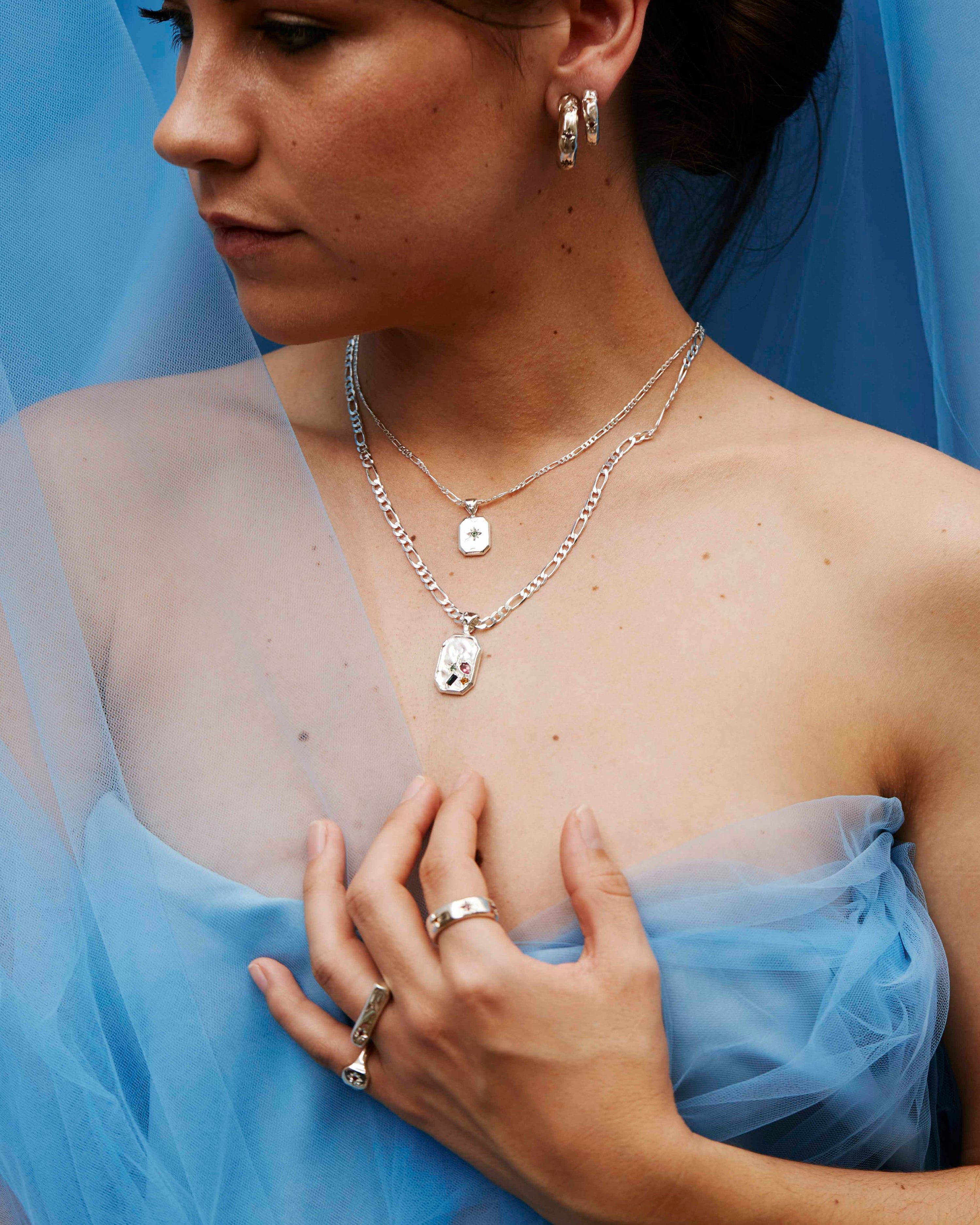 Dearest Necklace - Silver
Set with a Rhodolite Pear, Citrine Round, London Blue Topaz Baguette, and a Tsavorite Round.
Select your desired chain length.
Dearest Necklace - Silver
Dimensions
Pendant: +- 14mm x 11.5mm

Bale Height: +- 6mm

Chain Width: 4mm

Stones: Rhodolite Pear (4 x 5mm), Citrine Round (2.5mm), Topaz Baguette (4 x 2mm), Tsavorite Round (2mm).
Composition & Care
Solid Sterling Silver pendant and chain.

100% Natural and Genuine semi-precious stones.

The best way to keep your jewels shiny is to wear them! Silver tarnishes over time. Our silver pieces are finished with a high polish so that they are shiny when you get them. Despite this, like all silver jewellery, they will dull slightly.

Wash your pendant with a soft toothbrush & a tiny bit of dishwashing liquid every now and then to renew its sparkle and remove any grime lodged in the settings. Dry with a soft cloth.

Store in the linen bag provided, separate from other jewellery, to avoid tangling.

Avoid exposure to harsh chemicals and rough activity.
Shipping Information
Made To Order
We endeavour to process all orders as quickly as possible, and should your purchased piece be in stock, we will dispatch as soon as we are able. Please note though that all online purchases should be treated as 'made to order,' so please allow 10 to 15 working days for processing and manufacturing. Once processed and manufactured, your order will be shipped. Please note that we can only start this process once we have received payment.
Please see our shipping policy.
Local Delivery
When can you expect delivery once your order has been shipped?
Cape Town: Today or Tomorrow. (Weekends excluded)
National City Centre: Within 1 - 2 working days.
Small town or regional area/ farm/ rural location: Within 3 - 5 days.
International delivery: 7 - 15 days.
Please Note: All delivery lead times are mere guidelines provided to us by courier partners. 
T's & C's
Please note that chains used in making our jewellery are not necessarily made in-house and we, therefore, urge you to be extra careful with these components.

We cannot be held responsible for the loss of any stone or damage to natural components once they have left our studio.


Gorgeous Elephant Seal Pendant
Beautiful, clever, classic-contemporary design combined with the weight of the Ellie Seal Pendant give it a feeling of luxury and quirkiness. Very special piece.
Cute & simple
I absolutely love my Gold Tiny Bee necklace, i can't get enough of it, it's the cutest little thing