We create custom birthstone jewellery almost every day. They're some of our favourite and most memorable pieces with stones representing the birth months of your loved ones, months of important life events (like weddings and anniversaries), and more!
Every stone has a long, rich history of its own with both biblical and astrological attributes. Below, we'll give you a glimpse into the history of birthstones as well as a deep dive into each stone's symbolism and story.
The Ultimate Guide To Birthstones By Month

The History of Birthstones
The first records of gemstones being associated with months of the year were reportedly found in the Bible. In the tale of Aaron, the high priest of the Israelites, wore a bejewelled breastplate that featured 12 gemstones across his chest, each representing a tribe of Israel.
Over time, astrologers began to attribute one gemstone to each of the 12 months of the year, as well as the 12 zodiac signs. Early astrologers believed each gemstone brought healing powers or protection from evil to the people born in each respective month. It was believed that one should wear the appropriate gemstone during the ascendancy of the parallel zodiac sign. This is said to activate the therapeutic and talismanic powers of the stone.
To receive the full benefit, people took to wearing one stone for each month of the year. Eventually, this practice was modified so that a person would only wear the stone for the month they were born in – hence the term birthstone.
Today you will come across lists for both traditional and modern birthstones. Traditional birthstones are the stones that were commonly associated with each month in the early 1900s. In 1912, the National Association of Jewelers created the modern order and selection of the stones we use today. Since then, there have been a few changes, but the list remains largely unchanged.
Below is the contemporary list of birthstones that we follow.
January Birthstone – Garnet
Colour: Deep red, purplish-red, green, yellow 
Sources: India, Madagascar, Sri Lanka, Tanzania, USA, Zambia, Zimbabwe.
Hardness: 7-7.5
Symbolism: Trust, strength, & courage
Garnet is associated with happiness and commitment and is a symbol of loyalty, energy, and passion. Legend says that garnets give their wearers true and deep feelings. If that isn't enough, it is believed that garnet brings peace and prosperity within a community and good health to one's home.
The name garnet has roots in the 14th century and comes from a middle-English word that means 'dark red'. Due to its deep red tones, the garnet was associated with gorgeous, glowing pomegranate seeds! Garnets were used as a talisman to protect warriors that were headed into battle and were worn as a symbol of life by the ancient Egyptians.
This red gemstone is associated with three different elements: the heart, passion, and blood. Garnets are thought to have many physical benefits when being worn close to the body. They are very durable gemstones making them perfect for jewellery!
This captivating stone fits wonderfully into our Ingwe collection which celebrates the strength and beauty of the leopard. Take a closer look at our Marquise Garnet Ring.
February Birthstone – Amethyst
Colour: Purple
Sources: Australia, Brazil, Democratic Republic of Congo, India, Madagascar, Malawi, Mexico, Namibia, Russia, Uruguay, USA, Zambia, Zimbabwe
Hardness: 7
Symbolism: Royalty, stress relief, & humility
The word amethyst stems from the Greek word amethystos, which means "not drunk". This vibrant gemstone symbolizes royalty, hope, and passion. The amethyst is full of positive symbolism such as promoting peace, confidence, and even improving memory!
Amethyst is thought to guard one's mind and has the power to help you work through difficult situations. During ancient Roman times, wearing an amethyst was believed to keep the wearer clear-minded. Amethyst is thought to promote immunity and encourage stress relief. It encourages humility and wisdom in the wearer.
Apart from being the birthstone of February, amethyst is a popular gift for couples celebrating their 6th, 9th, and 47th wedding anniversaries.
The iconic AR Happy Hoop Earrings contain amethysts.
March Birthstone – Aquamarine
Colour: Light Blue
Sources: Afghanistan, Brazil, Madagascar, Malawi, Mozambique, Namibia, Nigeria, Tanzania, USA, Zambia, Zimbabwe
Hardness: 7.8-8
Symbolism: Tranquility, wisdom, & calmness
Aquamarine's name originates from the Latin words aqua marinus, which means 'water of the sea'. The colour spectrum of aquamarine resembles the beauty of the ocean, encouraging feelings of calm and serenity. The blue hues of aquamarine are thought to help reduce stress.
Aquamarine is believed to invoke emotional clarity, and when wearing this gemstone, it can promote feelings of tranquillity. Legend has it that the aquamarine stones came from mermaid tails. That's why they were thought to bring good luck to sailors.
The light blue gemstone is additionally thought to inspire wisdom, and courage, and generate calm energy for the person wearing it. It can increase feelings of hope and creativity. Aquamarine is often shared between couples as a token of love and commitment.
April Birthstone – Diamond
Colour: Colourless, brown, grey, yellow, black. Rarely – blue, green, pink, red, purplish
Sources: Angola, Australia, Botswana, Brazil, Canada, China, Democratic Republic of Congo, Ghana, Indonesia, Ivory Coast, Lesotho, Liberia, Namibia, Russia, South Africa, Sierra Leone, Tanzania, USA, Venezuela, Zimbabwe
Hardness: 10
Symbolism: Everlasting love, protection, & health
Best known as a girl's best friend! The diamond name originates from the Greek word adamastos, meaning "to be invincible". Diamonds are unique because they are the hardest naturally occurring substance known to man.
Because of this, they have become a symbol of everlasting love due to their strength and beauty. Diamonds are a popular stone amongst couples who are getting engaged as it is believed that diamonds can bring wealth, happiness and protection to their owner. Ancient Greeks thought diamonds were tears of the gods, while Romans believed that they were splinters of falling stars!
Diamonds are symbolically associated with love, commitment, health, and strength – which is so fitting given its properties as one of the hardest substances on the planet.
We adore diamonds in our studio. One of our bestsellers is the Diamond Darling Huggie earrings.
May Birthstone – Emerald
Colour: Green
Sources: Afghanistan, Australia, Austria, Brazil, Bulgaria, Canada, Colombia, Egypt, India, Madagascar, Mozambique, Nigeria, Norway, Pakistan, Russia, South Africa, Tanzania, USA, Zambia, Zimbabwe
Hardness: 7.5-8
Symbolism: Rebirth, good fortune, & wellness
The name for this incredible green stone originates from the Greek word smaragdus, which simply means 'green stone'. Emerald was first found in Egypt and was believed to symbolize fertility.
Emeralds are often associated with Venus, the goddess of love. This gemstone, which is best known for its vibrant green hues, is considered a symbol of abundance, joy, and rebirth. It is also believed that the Emerald can help sharpen the mind of the wearer and bring good fortune to the person wearing it.
The ancient Greeks believed that the emerald stone would protect them from unfaithfulness. As long as the stone shone green, their partner was being faithful. Emeralds are additionally known to assist with overall wellness by preventing illness and detoxifying the body.
Emeralds are the feature stone in two of our Bee Collection pieces: The Oh Honey Studs and the Honey Honey Stack Ring.
June Birthstone – Pearl, Alexandrite, & Moonstone
Pearl
Colour: Black, bluish, bronze, creamy, greenish, grey, pink, lilac, silvery, white, yellowish
Hardness: 2.5-3.5
Sources: Australia, Mexico, Persian Gulf, Philippines, Red Sea, Sri Lanka, Venezuela, Australia, Japan, Thailand, China, Europe, Russia, USA
Symbolism: Purity, imagination, & innocence
June's second birthstone is the pearl. They are thought to protect against nervous and anxious thoughts and control one's anger. In some cultures, pearls are associated with the divine, and it is believed that they were tears shed from heaven or from mermaids.
Pearls are additionally used to celebrate the 30th wedding anniversary.
Our bestselling product is our Wonky Pearl Charm which adds effortlessness to any hoop earring charm stack and can also be worn as a pendant on a chain.
Alexandrite
Colour: Green, red
Sources: Sri Lanka, Brazil, Russia, Tanzania, Zimbabwe
Hardness: 8.5
Symbolism: Intellect, prosperity, & luck
Alexandrite is an incredibly rare gem that is most well known for its colour-changing abilities. It shifts between a deep aqua green to magenta and lavender shades depending on the light it is viewed in. It's a representation of the balance between our physical and spiritual health. It is thought to encourage romance and one's emotional well-being.
Astrologically, Alexandrite is a stone for Geminis and Aries. It also represents Mercury, known as the planet of the mind. This stone symbolises change and can help centre its wearer and give them increased spiritual capacity.
Moonstone
Colour: White, peach
Sources: Sri Lanka, India, Myanmar, USA, Madagascar
Hardness: 6-6.5
Symbolism: Hope, calmness, & abundance
The third birthstone for June is the moonstone. People who wear moonstones are thought to be protected from harm. It is associated with all types of love and is additionally said to bring good luck to the wearer.
Moonstone also assists with inner growth and strength and is associated with new beginnings. It is used for calming emotions, as it alleviates stress and instability.
July Birthstone – Ruby
Colour: Red, pink
Sources: Afghanistan, Australia, Burma, Cambodia, India, Madagascar, Malawi, Mozambique, Pakistan, Sri Lanka, Tanzania, Thailand, the United States, Vietnam
Hardness: 9
Symbolism: Harmony, strength, & beauty
Ruby is regarded as one of the most valuable and desirable stones, especially because of its colour. The ruby is one of the oldest known gemstones and was discovered over 2,000 years ago.
Rubies are thought to bring harmony and protection against misfortune. The red in rubies is considered to be a representation of strength and courage. They are believed to promote feelings of self-confidence. Ruby can help remove negative energy and can alleviate exhaustion and lethargy.
This fiery gemstone is known to ignite one's imagination and arouse the senses. They are often associated with wisdom and beauty, and are found in a variety of shades of red – perfect for painting the town!
Additionally, Ruby is used symbolically to celebrate the 40th wedding anniversaries.
The Creation Pendant features six special rubies and celebrates divine female fertility and creativity.
August Birthstone – Peridot
Colour: Green, yellow-green, olive
Sources: Brazil, Egypt, Ethiopia, Kenya, Mexico, Myanmar, Pakistan, USA
Hardness: 6.5-7
Symbolism: Peace, good fortune, love, & happiness
Peridot gemstone is characterized by green hues with hints of yellow. In Hawaiian history, peridot was believed to be the tears of the goddess of fire and volcanoes. Peridot is named from the Greek word peridona which means "giving plenty".
They are also thought to protect the wearer against nightmares. Peridot represents strength, balance, and bravery. Additionally, peridot instils courage, wisdom, and wealth. It is known as the stone of compassion, helping relieve stress and calm its wearer when angry.
If that wasn't enough - this acid-green gem is even believed to boost immunity and improve skin quality!
September Birthstone – Sapphire
Colour: Blue, colourless, green, pink, violet, yellow, orange
Sources: Australia , India, Madagascar, Malawi, Sri Lanka, Kenya, Tanzania, Thailand, the United States
Hardness: 9
Symbolism: Royalty, wisdom, & favour
The word sapphire originates from both Greek and Latin root words that mean 'blue'. Ancient Persian rulers believed that the sky got its colour from the reflection of the sapphire stones.
Traditionally, it is a representation of royalty and was worn by kings in the 12th century to ward off negative thoughts and evil. It was also worn by priests as a symbol of protection from impure thoughts and temptation.
The sapphire is considered to be a symbol of truth and protection. The blue sapphire is a demonstration of wisdom, loyalty, faith, and serenity of the person wearing it. They are believed to eliminate nerves and encourage clarity when making decisions. Importantly, sapphires are associated with bringing success to those that wear them!
October Birthstone – Tourmaline & Opal
Tourmaline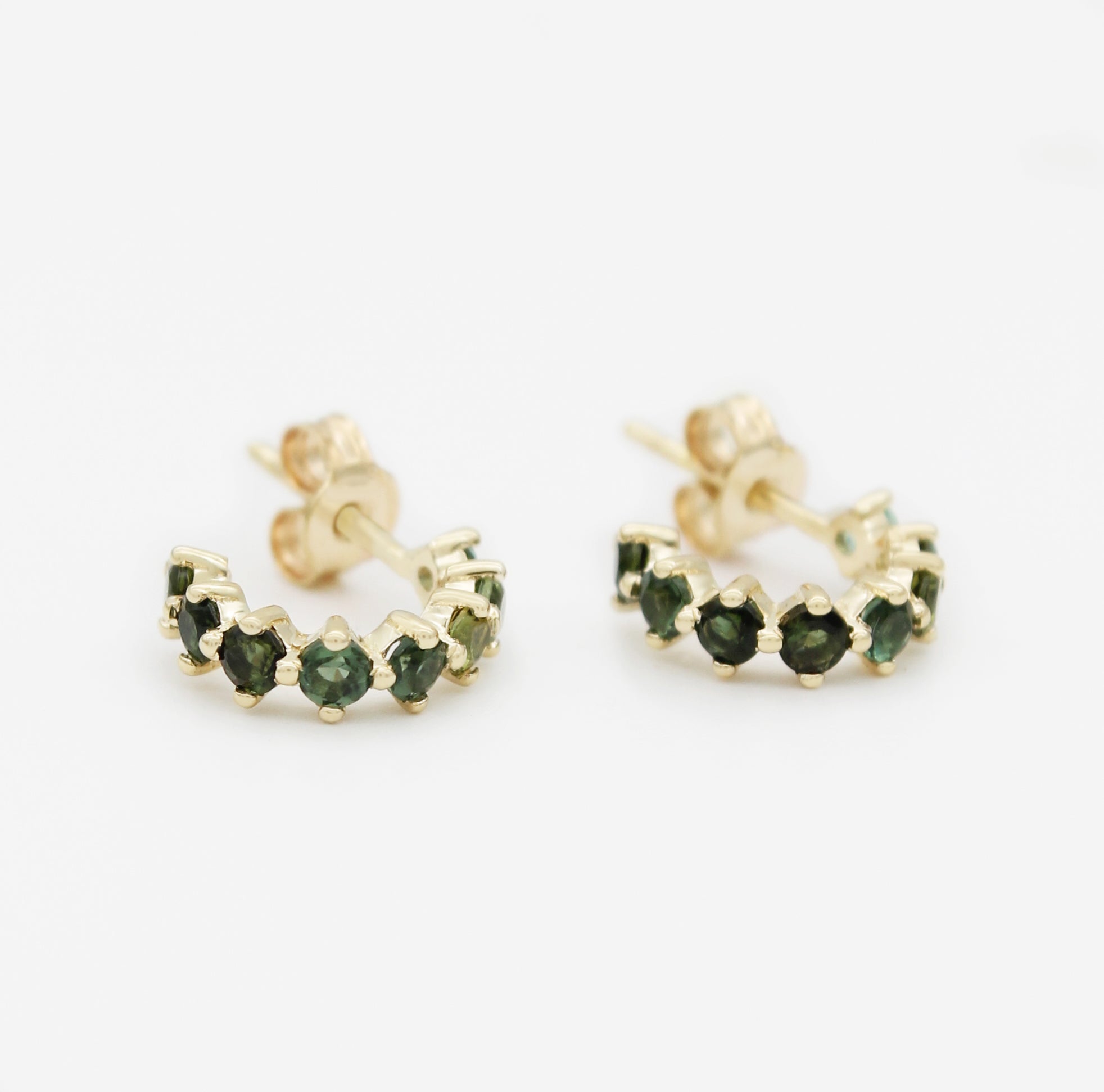 Colour: Blue, brown, colourless, green, pink, red, violet, yellow, black
Sources: Afghanistan, Australia, Brazil, Democratic Republic of Congo, Italy, Kenya, Madagascar, Mozambique, Myanmar, Namibia, Nigeria, Pakistan, Russia, Sri Lanka, Tanzania, USA, Zambia, Zimbabwe
Hardness: 7-7.5
Symbolism: Healing, creativity, & innocence
The name "tourmaline" means 'stones with various colours', and while most are variations of green and pink, some tourmaline stones are yellow, blue, and red. There is even a variation of it that is known as a watermelon tourmaline!
The tourmaline is considered to be directly related to one's emotions. Alchemists treasured the tourmaline because they believed it related to the philosopher's stone that would grant enlightenment.
Tourmaline symbolizes hope and love. It is a stress reliever and is thought to assist with mental alertness. Legend has it that the tourmaline helps to soothe feelings of sadness and envy in its wearers.
Interestingly, tourmaline gemstones possess a property that is called pyroelectric, which means that they become electrically charged when heated and can attract small objects like dust or lint.
Tourmalines are a popular stone in the AR studio. They're the star of our Sensuality Ring and feature beautifully on our Green Tourmaline Happy Hoops.
Opal
Colour: Blue, black, colourless, green, grey, orange, red, white
Sources: Australia, Brazil, Ethiopia, Honduras, Mexico, Somalia, Tanzania, USA
Hardness: 5-6
Symbolism: Confidence, faithfulness, & freedom
The second birthstone for October is the opal. Opal is a captivatingly beautiful stone that is thought to encourage freedom and independence while stimulating creativity. Additionally, opal can be worn as a good luck charm – it is believed to help those who wear it to attract good things into their lives.
The word opal comes from the Greek meaning "to see a change in colour." While wearing an opal, it is thought that one's memory is strengthened, and the stone will help to increase the will to live. This gemstone is often worn to ward away evil and protect the wearer's eyesight.
November Birthstone – Citrine & Topaz
Citrine
Colour: Yellow, orange
Sources: Australia, Brazil, Democratic Republic of Congo, India, Madagascar, Malawi, Mexico, Namibia, Russia, Uruguay, USA, Zambia, Zimbabwe
Hardness: 7
Symbolism: Calmness, health, & intellect
Citrine's name is derived from the Latin word citrina because of its pale yellow citrus colour. This colour is a result of the stone's iron content. From the earliest of times, citrine was referred to as the "sun stone" and the gemstone was believed to be capable of holding sunlight, as well as being useful in the protection from snakebites.
Its colour was associated with gold and it became known as the 'merchant's stone'. It was thought to improve communication and attract wealth. To the Romans, it was the stone of Mercury, the messenger god, and it was used for carving intaglios.
Citrine is said to help minimize anger and help create calmness in one's mind through the power of the sun. Furthermore, it is believed to promote health and wellness within the mind and body. It is known for keeping evil thoughts at bay and is thought to remove negativity and improve the intellect of the wearer.
Topaz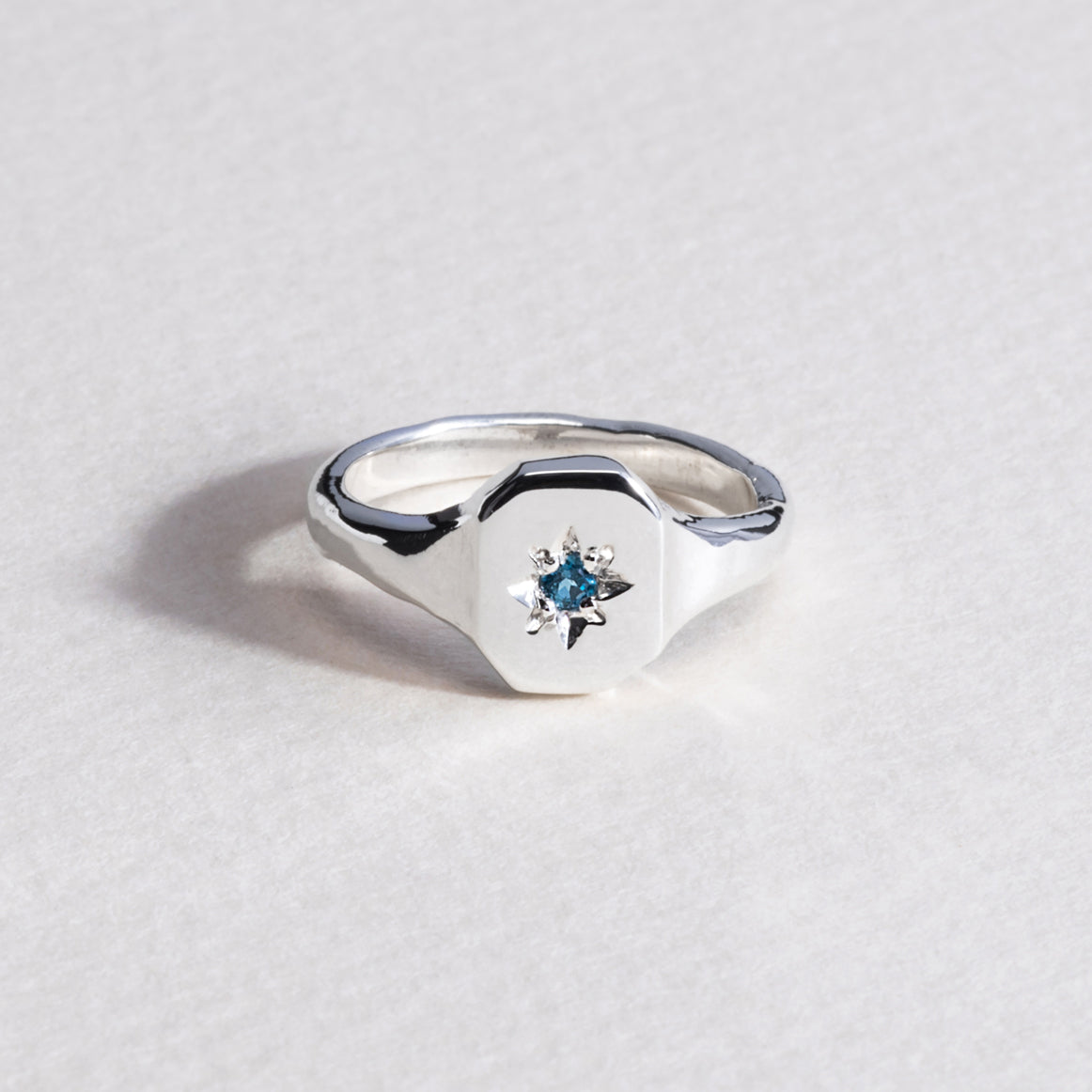 Colour: Blue, colourless, gold, greenish, pink, red, violet, yellow
Sources: Australia, Brazil, Madagascar, Japan, Mexico, Myanmar, Namibia, Nigeria, Pakistan, Russia, Sri Lanka, USA, Zimbabwe
Hardness: 8
Symbolism: Self-awareness, relaxation, & fidelity
Blue topaz has often been linked to positive and mystical attributes. It is thought to provide the wearer self-awareness, and creativity, and assist in expressing emotions or feelings that have been suppressed.
Additionally, blue topaz is thought to symbolize love and affection, bringing strength and intelligence to the person wearing it. When gifting blue topaz, it is considered to be a show of love and fidelity. It is believed to promote harmony, relaxation and can help to prevent feelings of anger and quick temper!
It has properties that are thought to bring good health and helps prevent headaches for those that wear it. In ancient civilizations, it was believed that the blue topaz had cooling powers and could relieve burns.
The topaz is celebrated in the My Dearest Collection. Take a closer look at it in our Dearest Signet Ring or our Baby Lovesick Pendant.
December Birthstone – Tanzanite & Turquoise
Turquoise
Colour: Sky-blue, greenish-blue, blue-green, green
Sources: Afghanistan, Australia, Chile, Egypt, Russia, Iran, USA
Hardness: 5-6
Symbolism: Protection, harmony, & joy
Turquoise is the second oldest December birthstone and is the stone used to celebrate the 11th wedding anniversary. Ancient cultures believed turquoise to be a holy stone, and it was often worn by royal figures and leaders.
In many cultures, turquoise has deep meaning and has been believed to hold protective powers. The stone was placed on weapons, crowns, jewellery, and even buildings. In Native American culture, it was carved into shapes, which were used as family heirlooms and in rituals.
In addition to protection, the stone was considered to promote happiness, health, and harmony. For this reason, turquoise is gifted to those getting married or celebrating a birthday.
Interestingly, turquoise is believed to have anti-inflammatory properties and assists in detoxifying. Turquoise has been used to fight viral infections and ward off depression and anxiety in many ancient cultures.
Tanzanite
Colour: Violet, Blue, Lilac
Sources: Tanzania
Hardness: 6-6.50
Symbolism: Intellect, intuition, & purity
Tanzanite comes only from Tanzania, and because we have only known about the stone's existence for about 50 years, folklore and legends have not yet developed! It was named as a December birthstone in 2002 and additionally serves as the 24th wedding anniversary stone.
The particularly special thing about this stone is that you can ascribe your own meanings to them.
Wearing Your Birthstone
We established earlier that ancient people would wear birthstones monthly in the hopes of gaining their powers and gifts. Today, birthstones are worn and styled as meaningful pieces for modern men and women.
And you don't have to stick to your birthstone! You can wear the birthstones of people you love or wear the stone given to significant months in your life. You can even a stone just because you like its colours or value the powers it carries – there are no rules when it comes to jewellery.
If you are on the hunt for birthstone jewellery and can't find your perfect piece on our website, contact our customs team and we'll make something just for you.